›

eCommerce opportunities
eCommerce opportunities
The opportunity to harness eCommerce is essential now to most businesses, requiring integration with all parts of the business, rather than being left as a separate entity. Customers use channels but expect them all to be seamless when making an order. Starting from the customers point of view is key to leveraging any of these opportunities.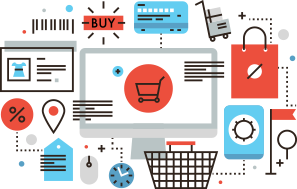 Growing eCommerce requires the right skills and mindset to see how your customers think now and in the future.

The reality is that your conversion rate is a barometer of the appeal of your proposition. It is too often judged as an isolated statistic rather than being considered as a composite measure of where you are on your brand and eCommerce evolution.

Omni-Channel or Multi Channel retailing, is now the necessary art of engaging customers consistently across every point of contact you have with them

For many the choice of which Marketplaces they sell on comes after the decision to sell online. For most however the consideration of Marketplaces should have started with some more fundamental questions.
Omni-Channel marketing should back up your Omni-Channel retail strategy. Just because there is now a wider selection of ways to make your marketing message count, all elements of customer marketing need to stay consistent with your brand.
eCommerce can liberate your business potential overseas, but requires careful planning to make it a profitable and sustainable source of future revenue.